Connect with Arizona Air, the most dependable provider of quality-driven air conditioning service, repair, maintenance, and installation services in the greater Phoenix area. From routine maintenance programs to repairing your worn-down unit before the summer heat comes, you can depend on us to deliver superior service with every customer interaction throughout the Phoenix Valley.
Call (602) 376-2075 or Request an Appointment
Replacement & Installation
When your AC unit reaches 12+ years old or if you're looking for a unit that is more energy-efficient, you'll be in the market for a new air conditioning unit. When this occurs, many residents wonder about how they'll afford to buy and install a new system. There's no reason to panic or worry when you contact Arizona Air Plumbing & Electrical. Our company is a certified dealer of quality brands including Trane™ and Bosch™... Our installation professionals are continually trained on the newest technology and will always ensure you receive the perfect sized system to keep your home cool – efficiently. Whether you require an AC replacement or are installing a new system at a new home, contact our air conditioning installation experts today.
Products
We service and install all makes and models of HVAC products. Below you will find more information on residential heating and AC products of our preferred brand, Trane. We partner with Trane because of their leading-edge technology, proven quality of products and service, and eco-friendly, high-efficient systems. Their sleek, modern designs are nice too!
Today's air conditioners provide more comfort and efficiency than ever. Whatever the size of your home, whenever you need cool, comfortable, cleaner air, we're here to help you make the best choice for your home or office.
Your central air conditioning system consists of two main parts—an outdoor unit and an indoor unit, or air handler. The air handler is an important part of your air conditioning equipment. Its job is to effectively circulate conditioned air throughout your home.
Heat Pumps provide both heating and cooling. Whether it's the scorching hot summer day, or a freezing winter night, heat pumps work day in and day out to keep your family relaxing in comfort.
Furnaces help keep you warm all winter long. Some of our furnaces operate at over 95% efficiency, which means that 95% of the fuel you pay for is actually converted into heat for your home. Gas and oil furnaces are also available.
We offer a complete line of digital, programmable, and non-programmable thermostats to meet your needs. Each has been designed to maximize the performance of heating and air conditioning systems with reliable, accurate temperature control.
Air filtration system can remove up to 99.98% percent of airborne allergens from your home's filtered air. Also, for many families, a whole-home humidifier not only provides the right amount of moisture for total comfort, it can help to keep irritating airborne particles from circulating as easily.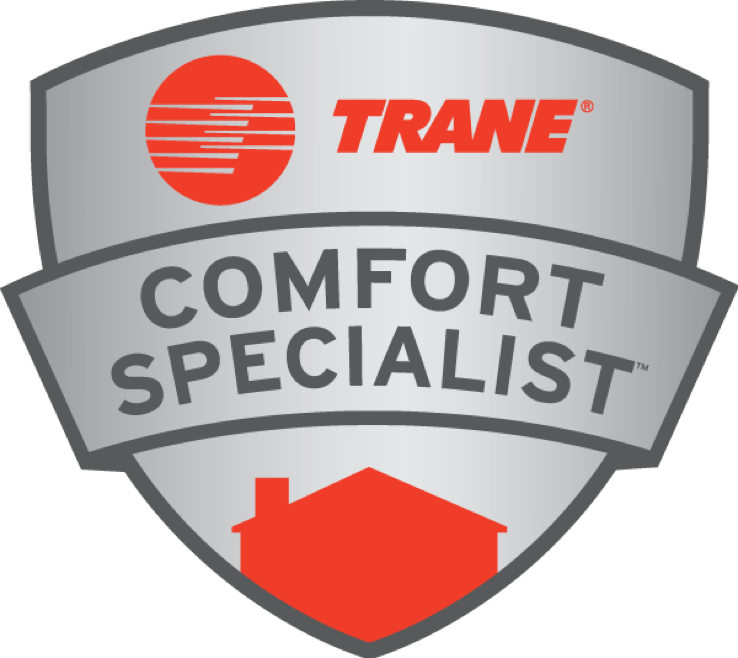 Packaged Systems
Packaged systems offer a more minimalist approach to heating and cooling. The system contains the same components as your typical split system—the evaporator, condenser, compressor, and more—all working together in one space-saving unit. Packaged units are typically installed outdoors at ground level or on the roof, making them versatile for both horizontal and down-flow designs.
You can choose from four types of packaged systems, each working differently:
Heat pump packaged system—heat and cool your home.
Air conditioner packaged systems—offer cooling solutions for warmer climates.
Hybrid fuel packaged systems—work as a heat pump but can also provide gas heating for greater flexibility.
Gas/Electric packaged systems—switch from electric air conditioning to gas heating to give you more fuel options.
Hybrid Split or Packaged Systems- Heating and AC Systems
Split System—Trane EarthWise™ Hybrid Split System combines a high-efficiency electric heat pump with a variable-speed gas furnace. With the flexibility of two energy sources, the system can actually optimize your utility use by switching back and forth to whichever source is most efficient for your comfort.
Packaged System—Our EarthWise™ Hybrid Packaged System contains the same components you find in an EarthWise™ Hybrid Split System. However, they are all engineered to work together in one attractive cabinet.
Financing
We work with several lenders from different states; ensuring there are options and programs you can qualify for to help offset your initial costs and make the investment in the home affordable.